What to bring
To Your Training Course
Riding Gear
Riding gear is required for all range (on-bike) activities. Students without the required riding gear will be dismissed without refund:
DOT-approved motorcycle helmet. Loaner helmets are available for basic and intermediate students.
Eye protection. A helmet face shield, goggles, safety glasses, sunglasses or eyeglasses are acceptable.
Long-sleeves. Long sleeves are required for basic and intermediate courses. Some advanced courses require a motorcycle jacket.
Long pants. Sturdy pants must completely cover the legs and have no holes or tears. Athletic leisure wear like sweat pants, yoga pants, leggings and jeggings are not permitted.
Full-fingered gloves. Gloves must cover entire hand and fingers. Leather motorcycle gloves are recommended.
Low-heeled boots or shoes that cover and protect the ankle bone. Motorcycle boots are recommended. Boots with flimsy material (e.g. elastic "Romeo" boots) or boots that interfere with the normal use of controls (e.g. high heels) are not permitted.
Recommended
Bring rain gear and sunscreen – our courses run rain or shine.
Extra clothing in case the weather changes.
Healthy snacks and water.
---
Documents
You must bring the following documents to the first class session:
Waiver Form
You must complete and sign the required waiver form. If you are younger than 18, the form must also be signed by a parent or legal guardian. If you cannot print the waiver in your confirmation, one will be provided at class.
Driver's License
For basic and intermediate courses, you must show a valid driver license or motor vehicle instruction permit.
For advanced courses, you must show a valid driver license with a motorcycle endorsement.
Proof of Insurance
If you are riding your own bike (see below), you must show current proof of insurance.
---
Motorcycle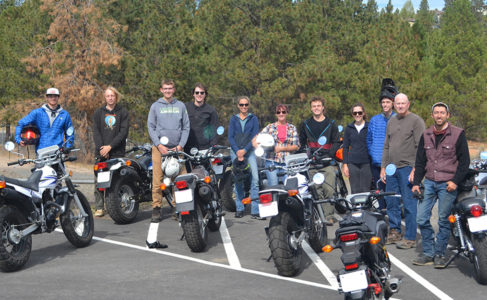 Team Oregon provides training bikes and scooters for Basic, Intermediate and 3-Wheel Basic courses only. Training bikes are not provided for other courses. Our bikes are small, lightweight machines 125–250 cc with seat heights to suit short, medium, and tall riders. The bikes at each site will vary. Some examples are:
Suzuki TU 250
Honda Grom 125
Suzuki GZ 250
Genuine Buddy 125
Yamaha TW 200
If you wish to ride your own bike in the course
For the Basic course: The engine size must be between 51–325 cc.
For all other courses: The engine size must be at least 51 cc. There is no maximum size limit in these courses.
The bike must have a valid motorcycle license plate. Mopeds or bikes bearing moped license plates are not allowed.
Trikes and reverse trikes are allowed in Advanced Riding Techniques (ART) course and Cornering Clinic. Sorry, no sidecar rigs are allowed. Trikes must have handlebars and the rider must sit astride the engine or drivetrain. Personal bikes are not allowed in Basic 3-Wheel course.
The motorcycle must be properly insured. You must show current proof of insurance to the instructor.
The motorcycle must be street legal, in safe riding condition and pass a safety inspection.